Ray Hylock, PhD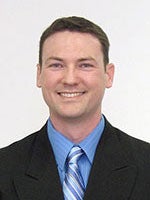 Associate Professor & Chair, Health Services and Information Management
252-744-6184
hylockr@ecu.edu
4340D Health Sciences Building
Education
PhD, Informatics (Health Informatics concentration), University of Iowa, 2013
MS, Informatics (Health Informatics concentration), University of Iowa, 2012
BS, High Technology Management, California State University, San Marcos, 2007
---
Program Affiliations
---
Courses Taught
COHE 6430: Health Data Management
COHE 6470: Health Information Privacy and Security
COHE 6550: Health Informatics Project Design and Management
COHE 6590: Health Data Analytics
HIMA 6060: Health Informatics
HSMA 4065: Management of Health Care Operations and Patient Flow
PUBH 8463: Health Information Systems
---
Research Interests
My research primarily focuses on theoretical and computational advancements to support patient care in the areas of health care databases/data warehouses, federation, advanced data structures, optimization, and heuristics. It is the application of computer and data science principles to the health domain. Current research includes a new storage paradigm for heterogeneous data, federated query optimization, optimal off-target detection with IUPAC and unbounded mismatch support (bioinformatics), a rewritten JDK/JVM (Java) to improve address space and memory performance in HPC environments, and research on how best to instruct health care management-oriented students computer and information science materials.
---
Teaching Interests
I am interested in the technological aspects of health informatics and information management. For instance, database systems, data integrity, privacy and security, project design and management, software engineering, and pedagogy.
---
Honors and Awards
2018: East Carolina University Scholar-Teacher Award.
2016: Dean's Award for Outstanding Performance in Teaching, College of Allied Health Sciences.
---
Professional Experience (Academic Experience)
| Date | Position |
| --- | --- |
| July 2021-Present | Department Chair, Health Services and Information Management, East Carolina University |
| July 2019-Present | Associate Professor, Health Services and Information Management, East Carolina University |
| August 2016-December 2018 | Program Director, Health Care Administration Graduate Certificate, East Carolina University |
| July 2013-June 2019 | Assistant Professor, Health Services and Information Management, East Carolina University |
---